Our Materials
Fine jewellery is valued for its materials and the level of craftsmanship it takes to produce it—but the emotional attachment it gives us is priceless.
Our environmental commitment
All Richie Paws precious metals and stones are sourced from a local and internationally accredited supplier, a pivotal decision in effectively monitoring and minimising our impact. Their accreditations assure our materials are conflict free and responsibly sourced.

Our supplier recycles their raw materials internally and uses the latest technology in eco-friendly metal refining. This ensures all Richie Paws silver and gold is produced in the most environmentally responsible way.

Learn more about our supplier's accreditations.
– Our promise –
Richie Paws knows your four-legged family members deserve the best quality. These are the only materials our skilled jewellers use to craft your precious pieces.
Sterling silver
Richie Paws sterling silver products are certified 92.5 per cent sterling silver. Our silver jewellery is solid, not plated, and is treated with a special anti-tarnish coating. In addition to being a finer quality, this also means each piece maintains its pristine appearance for longer.

The nature of solid sterling silver means it is extremely durable and perfect for jewellery that might get a few bumps and knocks during its lifetime. As a guarantee to its fineness, all Richie Paws sterling silver pieces are hallmarked.
Gold
Every piece of Richie Paws gold jewellery is a solid alloy of nine carat yellow, rose or white gold. This means it is highly durable and will always retain its impeccable hue through wear and time. The hallmark and caratage on all our gold products is a guarantee of its fineness.
Diamonds
Fake diamonds are nobody's best friend. That's why at Richie Paws we only ever use authentic diamonds of fine quality.

To be more precise:

Our white diamonds are classified as H/P1, or 'near-colourless'.

Our champagne diamonds are C3–C4, or 'medium champagne'.

All our diamonds are round brilliant cut.

All our diamonds are responsibly sourced and certified as conflict free.

To find out more about the number of diamonds on our pieces and their Total Diamond Weight (TDW), please refer to the product description.

Birthstones
Every month of the year is represented by a different semi-precious gemstone and each of these has a different meaning.

All Richie Paws coloured gemstones are natural and responsibly sourced. They are cut to four millimetres in diameter and are hand set into a sterling silver or nine carat yellow gold cup.

Our stones are AA–A grade in quality. This means they are finer than commercial grade stones and have been classified as clean and well-cut.

Please read the descriptions on the product pages for more information about each stone.

To discover the months and the meanings behind all our gemstones, visit The Charm of the Birthstone.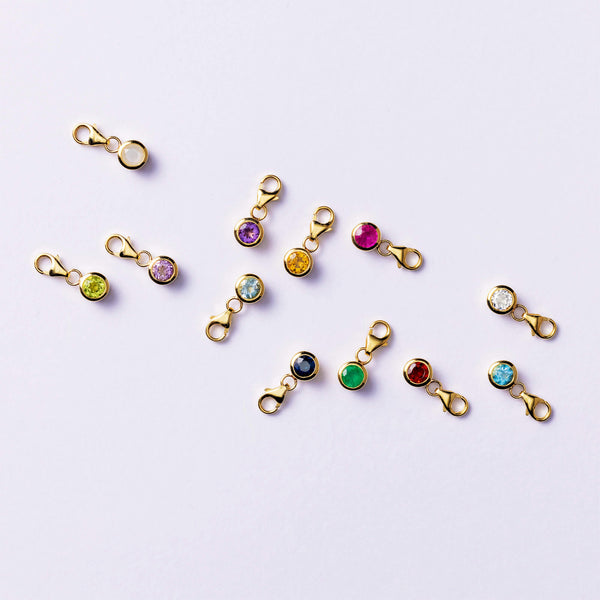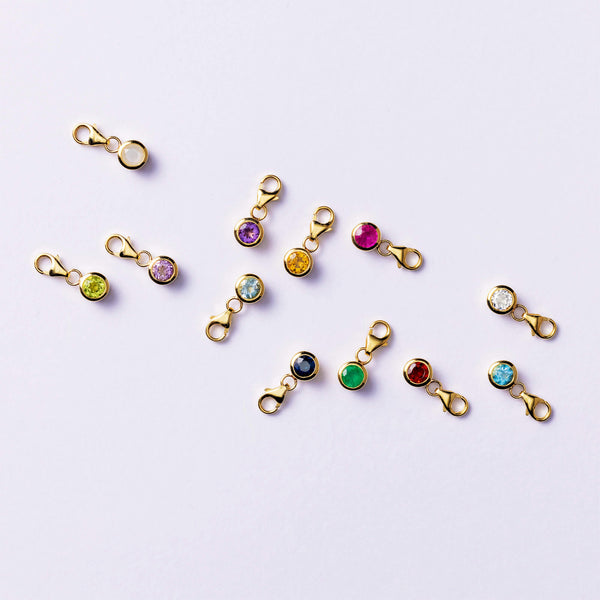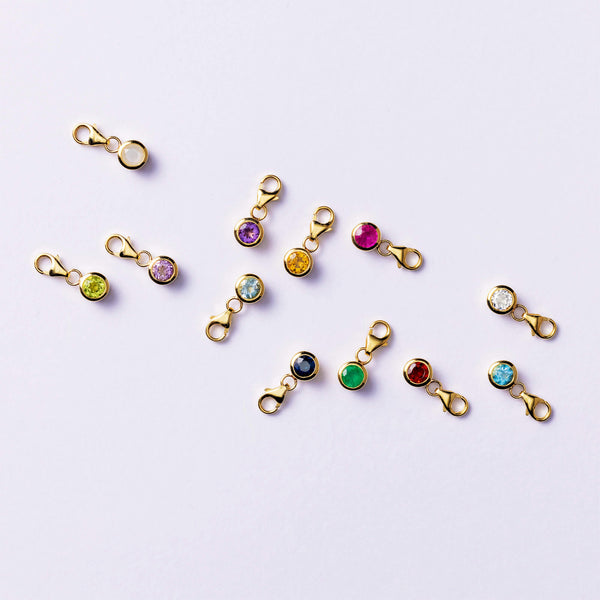 Our production
Richie Paws operates on a low inventory business model and the majority of our jewellery is made to order. Running our production at the same rate of demand and recycling all our scrap internally enables us to reduce our waste to almost zero.

Our Sydney-based workshop houses a premier team of jewellers, accredited by the Responsible Jewellery Council (RJC) in London. They use only Australian accredited metals and guaranteed conflict free diamonds and gemstones.

Your Richie Paws jewellery
Richie Paws jewellery is all individually finished, meaning no piece is exactly the same—much like the furry friends we're creating it for.

When you place your Richie Paws order, our jewellers set to work on crafting your bespoke piece. With every stone set by hand, and a jeweller's fine touch and expertise, you are guaranteed to receive a high quality, exceptionally crafted creation. Our tailored approach to manufacture means each piece is created individually, so please allow time for production and personalisation.

Before you receive your Richie Paws jewellery, it is subjected to the strictest checks to ensure its quality and safety for you and your furry friend.
Fineness guarantee
Every piece of Richie Paws jewellery is hallmarked and produced with a certificate of authenticity that guarantees it has been subjected to the most exacting quality control. The hallmark is a promise of these production methods and the fineness they embody.
Continue the journey...
Now that you know Richie Paws uses only the highest quality, sustainable products and processes, you can create your personalised pet jewellery guilt-free! And maybe even get a little matching something for yourself...