Name Tag Information
As much as your furry hero loves you, the allure of the great, wild yonder can get the better of them. With a Richie Paws name pendant, if your pet does do a Harry Houdini, whoever finds them will be able to contact you.
Why your pet needs a name tag
With one in three pets wandering off in their lifetime, it is important to their safety that they wear a name tag.

A collar and name tag is the only identifying factor your furry friend wears. While microchipping is important, it is not immediately obvious. A visible name tag makes your furry friend more approachable to strangers and indicates to whoever may find them that they are loved and missed.
What to include on your name tag
Personality and personalisation is a feature of Richie Paws name pendants and signature diamond pendants. With room for two short lines of text on either side*, you can choose a message that reflects your lifestyle. Our intuitive customisation tool provides fonts and a character counter to ensure your message is clear and legible.

Here are a few of the most popular inscriptions:
Pet's name
Your name
Your phone number and/or address
To really pull on the heartstrings of your furry friend's rescuer, you can include a personal message, such as:
Please call my parent/s
I'm friendly
Given the extravagance of your Richie Paws name pendant or signature diamond pendant, you should carefully consider what to inscribe on it. If you are thinking of moving or change phone numbers regularly, you may have to be a little more creative.
*One side only on signature diamond pendants.
Name tag safety
Name tags can represent a choking hazard if not properly attached.

With your Richie Paws purchase, you will receive two different sized split rings to attach your pendant to the collar. You can choose or switch between these sizes for a different look. Or use both. To find out more, refer to our attachment and fitting guide.

Simply attach one or two of the split rings provided to the bail (solid precious metal ring attached to your pendant) to hang the pendant from a collar. You may need to use two split rings to ensure the pendant is facing the right way, depending on whether the loop on your pet's collar sits across or along the strap.

We also provide a larger ring for if:
The collar's loop is thick and the smaller rings are difficult to attach
You want the jewellery to hang lower through thicker fur for better visibility
Richie Paws birthstone pendants are crafted with a secure lobster clasp for you to attach and remove as you please.
Reducing noise
Richie Paws name pendants are designed to create as little noise and interference to your furry hero as possible.

Experiment with the split rings provided to find the perfect fit for your collar style.

We don't recommend covering your Richie Paws name tag in plastic or any other material, as it will reduce its appeal and can also degrade and tarnish the metal.
Combatting reluctance
If your furry hero is reluctant to wear a collar or displeased with the addition of a Richie Paws name pendant or signature diamond pendant, introduce them to their new bling gradually.

First, just put on their collar. Once they are comfortable with that, add the name tag and offer a treat or reward. Your pet will associate wearing their collar and name tag with good things in no time.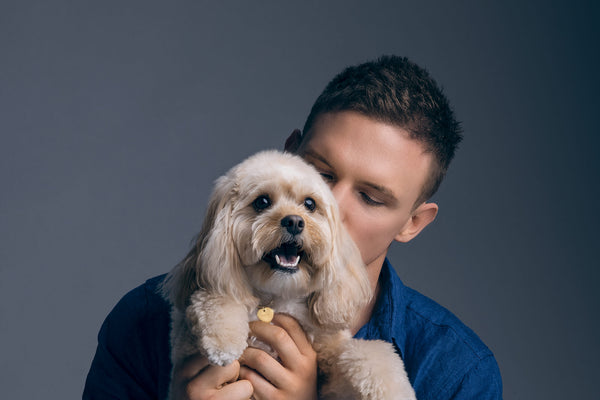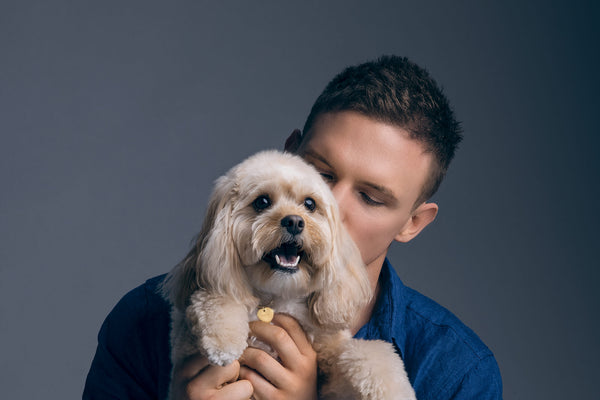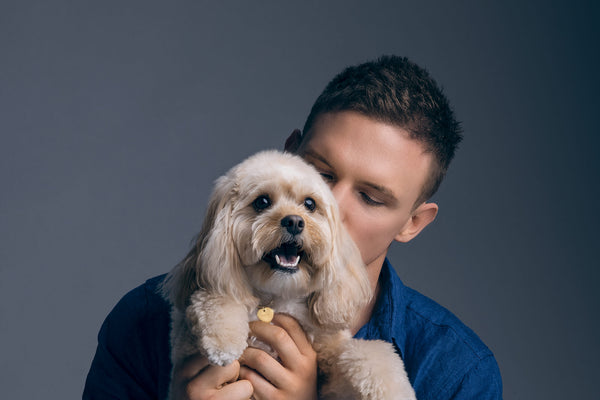 Continue the journey...
A name pendant will help keep your furry friend safe. Welcome a new addition or reward an old friend with their own bespoke and bejewelled personalised name pendant. Shop the range and discover your style.